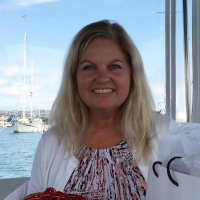 to Pastor Eric Oleson since 1986.
 One kid through school and working (salary: yay!) and two more in college (tuition: boo!)
B.A. in Journalism, Cal State Long Beach, 1985 
Teaching credentials from State of California and Association of Christian Schools International credential
1985-1993, events and publicity director for Bethany Church in Long Beach, California.
1993-2003, stayed home getting everyone born, out of diapers and into school.
2003-2012, history teacher at Brethren Christian in Huntington Beach. Love, love, loved it.
2012-       , felt strongly that the kids needed help with their transitions to college, so came back home. (The dog was super glad.)
1984ish-   , have done ministry in most of its forms, including assessing future church planters, a bit of bible teaching, leading a variety of ministries, lots of publicity and graphic work, and now this little web job.
Jesus and His people, politics, US History and 70s rock. Can still run for three miles (very slowly.)